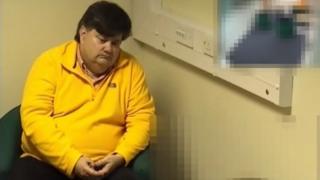 A convicted paedophile has been found guilty of making false allegations of murder and child sexual abuse against a string of public figures.
Carl Beech, 51, from Gloucester, was found guilty of 12 counts of perverting the course of justice and one of fraud.
His lies led to a £2m Metropolitan Police investigation which ended in no arrests or charges being made.
Beech, who denied the charges, did not react as the verdicts were delivered. He will be sentenced on Friday.
Jurors at Newcastle Crown Court took a day to reach their verdicts following a 12-week trial.
Known in media reports as "Nick", Beech accused senior politicians as well as army and security chiefs of sadistic sexual abuse and said he had witnessed boys being murdered in the 1970s and 1980s.
Operation Midland, a two-year long Met investigation which resulted from the allegations by the former NSPCC volunteer, closed in March 2016.
Indecent image charges
In hours of tearful interviews with police, Beech falsely alleged a paedophile network consisting of establishment figures was operating in London and elsewhere during the 1970s and 1980s.
He falsely claimed his late stepfather, an Army major, had raped him and passed him on to the public figures to be tortured at military bases and sexually abused.
Former prime minister Sir Edward Heath, former Labour MP Lord Janner and ex-MI6 boss Sir Maurice Oldfield were among those he wrongly accused.
Beech also claimed he had been raped by DJ and prolific sexual abuser Jimmy Savile, fraudulently collecting £22,000 compensation.
He wrongly accused the former Conservative MP Harvey Proctor of being directly involved in the murder of two boys – and also falsely implicated the former head of MI5, Sir Michael Hanley, in one of them.
Beech fabricated another claim about a boy being deliberately run over and suggested that he might have personally witnessed the killing of Martin Allen, who went missing as a teenager in 1979 and whose fate remains unknown.
'An evil man'
Beech's allegations led to the homes of several men being raided by police, including those belonging to Normandy veteran Field Marshall Lord Bramall, as well the late Lord Brittan and former Tory MP Mr Proctor.
The Met publicly described Beech's allegations at the time as "credible and true".
Lord Brittan died during the investigation without being informed that police had concluded there was no case against him. Lord Bramall's wife of more than 60 years also died in 2015 before she heard her husband had been cleared.
Sir Hugh Beach, another D-Day veteran and former general who was falsely accused, told the BBC: "He is a man who has done enormous damage to totally innocent people who have done him no harm at all. An evil man."
The Met Police's deputy commissioner, Sir Stephen House, accepted his force "did not get everything right", but said all officers investigated by the police watchdog in relation to Beech's case had been found to have been working "in good faith".
He said the Met would strive to identify any additional lessons it could learn from the case – adding that sexual offences cases were a "complex and challenging" part of police work, particularly when allegations related to historic sex abuse.
'Disgraceful chapter in policing'
After a report into Operation Midland by a retired High Court judge, Beech was referred for investigation by Northumbria Police.
Detectives discovered the former paediatric nurse, school governor and hospital inspector was himself a paedophile. In January this year, he pleaded guilty to possessing hundreds of indecent images of children and voyeurism.
Speaking after the verdict, Mr Proctor called Operation Midland "a truly disgraceful chapter in the history of British policing"
He blamed it on "internal failings at the highest level" within the Met Police.
Mr Proctor said he had lost his home and his job while he was under suspicion.
"My livelihood was being torn apart, aided by the police," he said.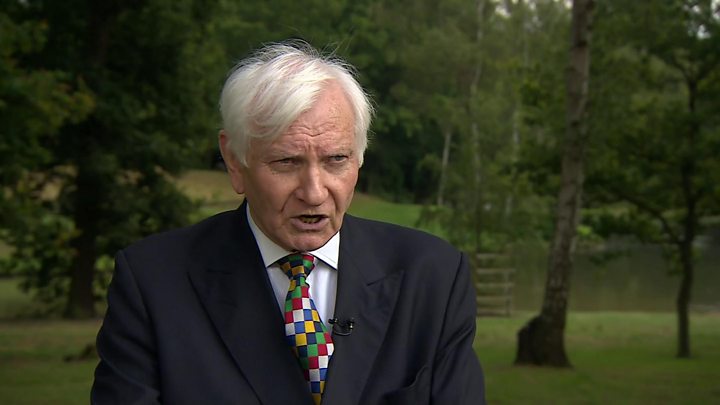 He also criticised Labour's deputy leader Tom Watson, who met Beech in 2014 and discussed the allegations. Mr Watson "gave oxygen" to Beech's allegations, Mr Proctor claimed.
Mr Watson defended his role and said he hoped the case does not prevent survivors of child sexual abuse going to the police.
He told the BBC: "I can understand why Harvey Proctor is very angry and upset but I'm afraid I haven't got anything to apologise to him for."
There was "absolutely no way" that he applied pressure "improperly" on police and politicians to investigate the case, he said.
Mr Proctor also criticised the BBC's journalism on Beech's allegations.
In 2014, the BBC broadcast an interview with Beech – whose identity was kept hidden at the time – as well as with police investigating the case.
In a statement issue after the trial verdict, the BBC said it had "reported serious allegations, in the public interest, which were the basis of a police murder investigation, and which the police later described as 'credible and true'".
It added: "Carl Beech has since been exposed as a fantasist and serial liar, not least by an investigation from the BBC's Panorama.
"We express our utmost sympathy to those falsely accused by Beech and to the family of Martin Allen."
Misdirect and mislead
The now-defunct Exaro news agency also came under attack from Mr Proctor.
The former MP said the court had heard that Beech had been shown images and locations by journalists Mark Watts and Mark Conrad to "facilitate his fantasies" during the investigation.
He said the journalists, from Exaro should be investigated for "conspiracy to pervert the course of justice".
Mr Conrad said he had "every sympathy" with those falsely accused, but said Beech was never shown any images of alleged abusers before he had named them.
He said Beech had "meticulously researched" his false claims, allowing him to "misdirect and mislead" journalists and the police.
Mr Watts said there was no evidence of criminal conduct by Exaro and Mr Conrad had shown the images to Beech "before we knew that there was any prospect" of police investigating.
He called for a public inquiry to ensure "the right lessons" are learned from the investigation.
After the trial, prosecutors said Beech "revelled in the attention that his tales were attracting" and "wanted to be a part of the scene that he was describing".
Jenny Hopkins, head of special crime and counter-terrorism at the Crown Prosecution Service said the case was "unlike any other I have seen in my career".
"He is not a fantasist, as some people have described him, nor is he a victim of abuse where there was insufficient evidence to prosecute," Ms Hopkins said.
Instead, he was a "very prolific and manipulative liar" who "thrived on being in the limelight".
She said: "He would quite happily have seen innocent men arrested and face the full weight of the law."
Meanwhile, the Independent Office for Police Conduct (IOPC) has cleared three detectives following an investigation into how the Met Police applied for warrants to raid the homes of Lord Bramall, the late Lord Brittan and Mr Proctor.
"The allegations Nick made were grave and warranted investigation and we believe those involved in applying for the search warrant acted with due diligence and in good faith at the time," the IOPC's Jonathan Green said.
'Shocked and appalled'
At a time when his own paedophile activity was hidden, Beech went into primary schools and presented workshops and assemblies about children keeping themselves safe from abuse as a volunteer with the NSPCC.
He volunteered for the charity's school service department from November 2012 until July 2015, stopping more than a year before police began to investigate him for perverting the course of justice and fraud.
The NSPCC said Beech had no connection with the charity when the offences came to light.
It said its volunteers were subject to "strenuous and thorough" safeguarding checks, adding: "We are shocked and appalled by today's verdicts and hope Beech's actions don't prevent other abuse survivors from getting the justice they deserve."
boiler installations raynes park

Source link